One of the young Ghanaian man of God known as Pastor Elisha Malope, who was jailed for one year term in prison at the Sunyani Central Prison, by the founder and leader of Anointed Palace Chapel known as Rev Obofour, after he falsely accused him of being an occult and a fake man of God with lots of evil deeds.
According to Pastor Elisha, Rev Obofour killed two of his children in Cotonou for spiritual powers, and also made it known that he's involved in serious occultic practice.
After this alarming claims made by him, he later came out to apologize to Rev Obofour, but Rev Obofour never accepted his apology and vowed to jail him up.
Read Also:Kwaku Manu Warns & Advises Rev Obofour to End Beef With Hoahi, Else Will End Up Like Bishop Obinim(Opens in a new browser tab)
After been sent to court and charged for defamation, he was fined Ghc 6000 or been sentenced to One year in Prison.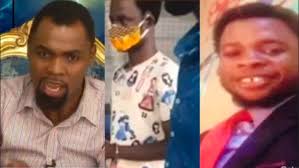 News gathered by Ebo Safo indicates that, the said Pastor who was jailed has been released from Prison after two weeks, four days in the lockdown cells in the Sunyani Central Prison.
In an exclusive Interview with Nana Agradaa live on his "The Talking Point Show", Pastor Elisha who showed up Surprisingly on a phone call Interview made it known that, he has finally been released from Prison, after some loved one's decided to pay for his fine of Ghc 6000 on him.
He continued that, he has been released for the past weeks, and really showed his gratitude to the love ones who were with him in his difficult moments.
" Rev Obofour jailing me to Prison was one of God's way to show and teach me certain things in Prison , i don't want people to say anything against the Man of God, God knows best in what ever happened ", he said.
Watch Full Video of his Interview below:
https://youtu.be/lZ-oaysdIQc