Ghana's Climate Clock Ambassador, Kwame Nsiah-Apau, known in showbiz as Okyeame Kwame, paid a courtesy call on the British High Commissioner to Ghana, Harriet Thompson, yesterday September 14, 2021.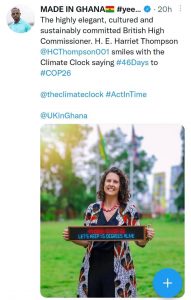 The meeting was to present the Climate Clock to the commissioner and have conversations on climate change.
The High Commissioner expressed her willingness to join hands with Okyeame Kwame and all institutions involved to help keep the environment from deteriorating.
"Since its famous launch in New York in September 2020, Climate Clock teams have sprung up across the world from Chiapas to Kazakhstan, from Korea to Glasgow.
Climate change matters in 🇬🇭 If the world heats up by 1.5 degrees 75% of Ghana's cocoa-growing land will no longer support the crop. @Okyeamekwame and @theclimateclock remind us time is running out: we can avoid the worst but we need to act fast.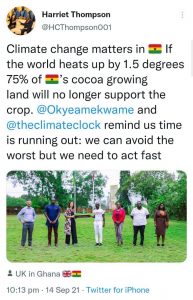 In April, Britain committed to the world's most ambitious emissions reduction target: a 78% reduction by 2035. Let's keep 1.5 degrees alive @COP26 47 days to go! @Okyeamekwame @UKinGhana," she wrote on Twitter.
Harriet Thompson, British High Commissioner to Ghana
On August 12, 2021, Okyeame Kwame was made Ghana's Climate Clock ambassador at a ceremony held at the City Triangle in Accra.
He promised that he was going to do everything in his power to help educate people on the need to preserve the environment.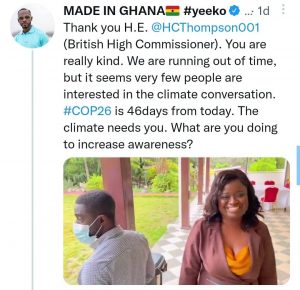 Also present at the meeting were Beverley Okoye, UK Climate Attaché (British High Commission); Richard Sandall, UK Deputy Development Director; Abigail Foaty, and Communications Manager (British High Commission).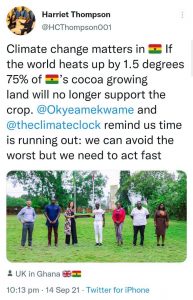 Representing Okyeame Kwame's management team were Akwasi Boateng (Media and Public Relations), Ernest Appau(Production & Road Manager).
What is the Climate Clock?
The Climate Clock is one of the most dynamic climate campaigns in the world today, melding art, science, technology, and grassroots organizing to get the world to act in time.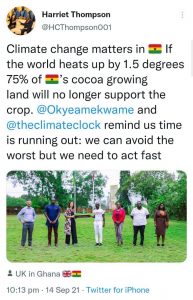 The project is centered on a simple tool: a clock that counts down the critical time window to reach zero emissions (the "deadline"), while tracking progress on key solution pathways ("lifelines").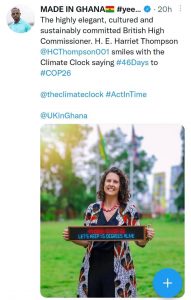 By showing what to be done by when, the Clock frames its critical mission — a rapid and just transition to a safe climate future — and puts it at the very forefront of our attention.
Credit : Kwame Dadzie
Follow and comment to receive more news thank you.