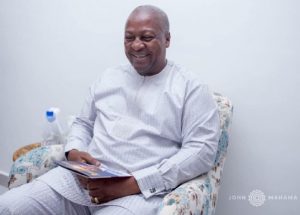 The Electoral Commission has debunked allegations made by the flagbearer of the opposition National Democratic Congress, John Mahama that the institution has deliberately removed the names of some electorates.
This comes after Mr Mahama described the anomalies in the ongoing exhibition exercise as a purposeful act by the Commission to prevent the 2020 elections from being a free and fair election.
A statement issued by the EC on Wednesday, September 23 read:
"Our attention has been drawn to statements in the media by the National Democratic Congress (NDC) and its flagbearer to the effect that the Electoral Commission is carrying out an agenda to remove the names of its supporters and sympathisers from the Voters Register. This allegation is false."
"The Commission has, from the beginning of the compilation of the Voters Register, lived up to its motto: Fairness, Transparency and Accountability."
"Indeed, at every point, we have provided factual, accurate and evidence-based information to our Stakeholders on voter statistics per region, district, gender, age among others. To date, every interested Ghanaian has information on the number of persons who registered in the just concluded Voter Registration Exercise based on the information we provided."
The Electoral Commission, therefore, noted that it will be absurd for it to go contrary to its own slogan to disrupt the democratic process in the country.
"It is a paradox, therefore, to suggest that the same Commission now seeks to remove persons from the Voters Register. Had that been the agenda of the Commission, it would not have given detailed information to Stakeholders throughout the Registration process. We assure the General Public that these allegations are unfounded."