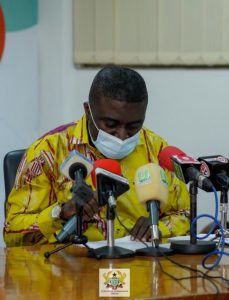 Deputy Chairman of the Electoral Commission, Dr Eric Asare Bossman has announced that come December 7, 2020, the number of prospective voters expected to cast their votes at all polling stations has been reduced to 700.
This strategy to be employed by the EC during the elections, according to Dr Asare Bossman, is proof that the commission is not relenting in its efforts to ensure that all measures put in place work properly.
During his delivery, he made mention that in the 2016 elections, the number of voters at the various polling stations were 850 but due to the pandemic, polling stations with more than 700 prospective voters at the various centres will be divided into A and B.
This means the polling stations which had prospective voters registered beyond 700 will be divided into two. Thus those polling stations will have two centres where prospective voters will be able to go and exercise their franchise come December 7, 2020.
According to the Deputy Chair of the Electoral Commission, transfer of votes will be limited to security personnel to enable those who will be sent on national duties to ensure peace transfer their votes as well as students who registered in their various schools.