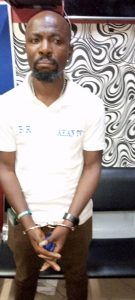 One of the Social media critique and a Kumawood actor, who also happens to be a Blogger and owner of Akan TV Channel on YouTube, widely known as Bentil has been arrested by the Police from the Headquarters, after a serious feud with Okomfo Agradaa.
According to sources leading to his arrest, Bentil has been teaming up in a number of times with another Okomfo known as Sakimba, to tarnish and destroy the image of Nana Agradaa, CEO of Thunder TV.
In an exclusive video already trending on Social Media, was seen the blogger been handicapped and under the custody of the police.
In the said video posted by Nana Osei Bonsu Hoahi who broke the news online, Bentil was arrested in relation to a video posted by him not quit long with Okomfo Sakumba that, they will make sure Okomfo Agradaa will be killed, so that she cannot be seen bragging again.
After the arrest by Bentil, Okomfo Sakumba is still on the hide out, and Police are still after him to answer why they made that statement.
Hoahi in reaction to the news made it known that, its about time Bloggers stop tarnishing the image of others, just to trend on Social Media, and made it known that, he will continue to stand for the truth no matter what.
This news has led to a lot of controversies, while others are happy for the said arrest, some section want Bentil to be released.
Click on the link to watch video of how Akan TV CEO Bentil was arrested below:
https://youtu.be/gT7H4JNG2e0