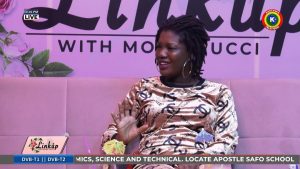 Over the years, the music industry in Ghana has been flooded by men leaving their female counterparts little or no space to shine.
However, the likes of Akosua Agyapong, Becca, Efyah, just to mention a few have done fairly well in this terrain, creating a path for other female musicians such as Adina, Sister Afia, Eno Barony, Eshun, Feli Nuna and a few of them to follow.
One of such Musicians treading this path is Iona, a young Ghanaian musician who is set to take the music scene by storm. Mercy Abena Sam is her name in real life but she has chosen Iona Rennie as her showbiz name.
She hails from Anomabo in the central region of Ghana and is a midwifery student at the University of Health and Allied Sciences at Ho in the Volta region. Iona is signed onto Funkz Entertainment whose CEO is Eugene Agyeman, a Ghanaian businessman based in the U.K.
In recent times, the youngster has been compared to the late Ebony Reigns as Ebony look alike which according to her is a wrong comparison. She stated in an interview on Linkup with Mona Gucci on Kantanka Television that she always hear the same comment many times but if she really look like Ebony, then Ghanaians are making a mistake because she is her senior sister, and Ghana's culture states that one's junior sister should be the one who resembles the elderly one and not the other way round because she is older than Ebony.
"I liked Ebony a lot because I felt there were a lot of things I saw in her and I see in me as well. For instance, the way she's crazy, she's always herself so we share the same vibe, and even after she died, I saw her in my dreams as if I had a personal relationship with her", Iona explained.
Story by: Esther Daitey
Source: Kantanka TV