A renowned Takoradi based DJ, Michael Gawu, popularly known by many as Dj Premier Gawu who works for Skyy Power FM and currently the Programs and Events Manager for Skyy Groups has stated that, he does not need any payola for playing Naana Blu's Odo Asem because it is a great song that should be played by all Djs who understand what good song is.
Listen to Naana Blu's Odo Asem song:
The 'pay-for-play' practice termed as 'payola' is when DJs take money or gifts from musicians, their managers or producers in order to play their songs on radio or television stations. As long as there has been a music industry, there have been attempts — both overt and clandestine — to manufacture hits.
"We need to amplify good quality highlife songs from artists like NaaNa Blu so fans can find out more about such artists and support their works. Why do we need to wait for payola before playing and promoting something that promotes our own identity. Highlife is our own. It's sweet to the ears," Dj Premier Gawu admonished.
Watch how Dj Premier Gawu was enjoying NaaNa Blu's Odo Asem song:
NaaNa Blu who has been nominated for UNSUNG category in the Vodafone Ghana Music Awards 2021 released her maiden EP, 'This is highlife' in September, 2020. The body of work by the 'No Pressure' Singer has five (5) highlife songs. The album is available on online streaming platforms. NaaNa has songs such as 'Sugar Cane', 'No Pressure', 'Afehyia Pa' and 'Save Us.'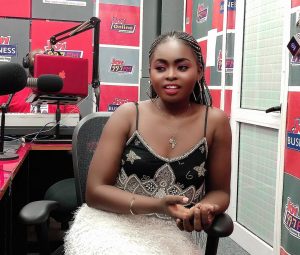 In 2020, Naana Blu was endorsed by the Highlife legend Ebo Taylor after he listened to the songs on her debut EP 'This is highlife'. The legendary act, Ebo Taylor described the tracklist saying "The songs are splendid. She performed the songs very well. I love the songs."
Premier Gawu, is a trained teacher but showed interest in Radio some 25 years ago and has since been a sensation and a household name in radio in the Western and Central regions. He worked with ATL 100.5 FM, FOX 97.9 in Kumasi and currently the Programs and Events Manager and the presenter of Skyy Power Fm Mid Morning Program.
Listen to 'This is Highlife' song: