Talented Ghanaian rapper who has been working hard over the years, with lot of great works onto his music gallery known as Tom D'Frick, has released one of his major projects for this year titled 'Posey Cart'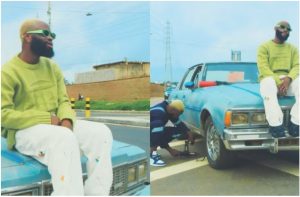 'Posey Cart' follows his recent releases 'Ode Bi', 'Hell In Cell', 'Cold World', and 'La Read' which are all banging loud out there.
The song touches on some real-life situations that many music lovers can relate to.
This brand new banger has been released alongside a classic piece of visual which is doper by all standards. In a social media post he made, the young talent stated that his new song would be a hit at the spat.
Tom D'Frick posey cart is receiving massive airplay across the country, and fans at the moment are jamming to the song happily.
Watch Video below: