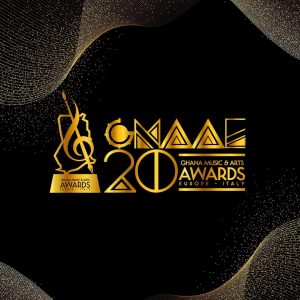 The Renowned Awards Scheme that honors well deserving musicians, radio presenters, and movie makers under a year review, known as Ghana Music & Arts Awards Europe, has finally released an official letter, giving deep reasons why the 2nd edition of their prestigious awards Scheme has been postponed from 2020 to 2021.
According to the official released letter, the management, board and the academy of Ghana Music & Arts Awards Europe, have regrettably postponed the Awards Scheme, due to the outbreak of the deadly novel coronavirus Covid – 19 diseases, and for the best interest of the general safety for fans and love one's, the Scheme has been postponed to next year 2021.
"In light of the difficulty imposed by Covid 19, and the subsequent precautions taken by the Government of Countries all over the world in controlling the pandemic, the board with all its stake holders and partners, have taken the decision to postpone the Ghana Music and Arts Awards Europe 2020 (GMAAE), Which was scheduled to be held in Italy this year following its maiden edition in Amsterdam, Netherlands 2019″, the letter stated.
The maiden Edition of the Ghana Music and Arts Awards Europe 2019 was launched at the Golden Tulip Hotel in Accra.
The event which was later held in Amsterdam, honoured Ghanaian Celebrities who were shortlisted in categories ranging from Artiste of the year, Best Rapper of the year, Highlife Artiste of the year, Radio Personality of the year, TV Personality of the years and host of other categories.
Check out the full Release Letter below: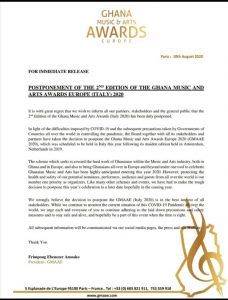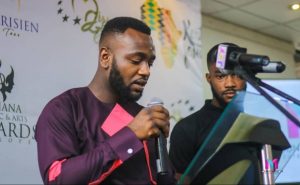 Source : Ebo Safo/ Ebosafo.com